Bush got ATE ALIVE at King funeral
Rev. Lowery chewed him up and spit him out!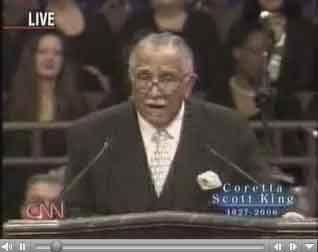 "We know now there were no weapons of mass destruction over there.

But Coretta knew and we know that there are weapons of misdirection right down here

. Millions without health insurance. Poverty abounds. For war billions more but no more for the poor."
Bush just sat there at the funeral and took it
. He must have felt crunchy as fuck!
Click here
for the video.
"It's a beautiful day in the neighborhood!"