DEATH PENALTY for "GANG" members? WTF???
This is one of the most horrible piece of shit proposals sitting in Congress right now. The
Gang Deterrence and Community Protection Act of 2005
(H.R. 1279) wants to impose the death penalty for "gang" crimes. What do they call a "gang"? Here it goes:
`

(1) CRIMINAL STREET GANG- The term `criminal street gang' means a formal or informal group or association of 3 or more individuals, who commit 2 or more gang crimes...

(look up

1279

at http://thomas.loc.gov/ and see for yourself)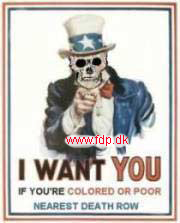 What is a gang crime, you ask? Anything from fighting to possessing stolen goods counts as a "gang crime" in this new proposal.
So... if you and 2 of your hommies (strike one) are ever get caught fighting (strike two) and one of you had something stolen (strike 3) then they'll call you guys a "street gang" and sentence you to
DEATH
! Still don't believe it?
Look it up
!
Want to stop this? Well, luckily the
ACLU
are already on the case and they got an
online form you can use to email your local Representative
to bitch em out over this bill. Get involved,
make noise
, call a congress person, because for the Hip Hop generation it could mean our lives!